Her Royal Highness Princess Maha Chakri Sirindhorn, as the Representative of His Majesty the King, will confer the Prince Mahidol Award 2011 to the Laureates on Wednesday, 25th January 2012 at 17.30 hours at the Chakri Throne Hall. On behalf of His Majesty the King, Her Royal Highness Princess Maha Chakri Sirindhorn will host the banquet in honour of the Prince Mahidol Laureates 2011 on the same day at Boromrajasathitmaholarn Throne Hall at 20.00 hours.
On 11 November 2011, the meeting of Board of Trustees of the Prince Mahidol Award Foundation, chaired by Her Royal Highness Princess Maha Chakri Sirindhorn, decided to confer the Prince Mahidol Award 2011, to the following Laureates out of 76 candidates from 45 countries. Details as follows: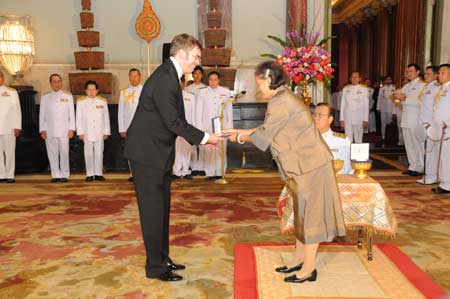 Prof. Aaron Beck's representative Dr. Paul Grant receives
the Prince Mahidol Award 2011
In the field of Medicine:
Professor Aaron T. Beck (U.S.A.) Professor Emeritus of Psychiatry, University of Pennsylvania, and Honorary President of the Aaron T. Beck Psychopathology Research Center, Pennsylvania, is the first person who has worked on the method of cognitive behavioral therapy (CBT) to use on patients suffering from depression. He developed CBT in the early 1960s when he was a psychiatrist at the University of Pennsylvania. He researched, developed and tested the efficiency of the method used on patients. This method focuses on how thinking affects the way a person feels and acts, and helps to change their thinking, behavior, and emotional responses to become more rational. Later studies show that CBT is the best method for major depression. CBT has been widely used by psychiatrists and psychotherapists for the treatment of depression. This therapy has helped more than 120 million people suffering from major depression and reduced the rate of suicide among more than 1 million people worldwide every year. Professor Beck has become known as the Father of Cognitive Behavioral Therapy.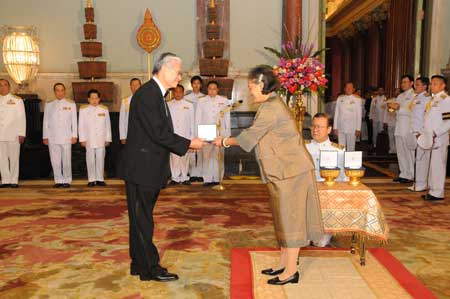 Dr. David T. Wong receives the Prince Mahidol Award 2011
Dr. David T. Wong (U.S.A.)
Adjunctive Professor, Neurobiology, Department of Psychiatry, Indiana University School of Medicine, started his study and research in the 1970s and later found fluoxetine, which was the first selective serotonin reuptake inhibitor (SSRI). It then took about 15 years before the US Food and Drug Administration (US FDA) approved fluoxetine for marketing as an antidepressant drug under the trade name "Prozac" in January 1988. In 1990, fluoxetine or Prozac gained its most prescribed antidepressant because of its sustained effectiveness, low side-effect profile, overdose safety and once-a-day dosing. It has been widely used to help more than 100 million depressed patients around the world. Moreover, fluoxetine has become the basic model in developing many antidepressants.
Both cognitive behaviour therapy and fluoxetine play a major impact on the treatment of major depression, but the combination of the two gives a more effective and satisfactory result.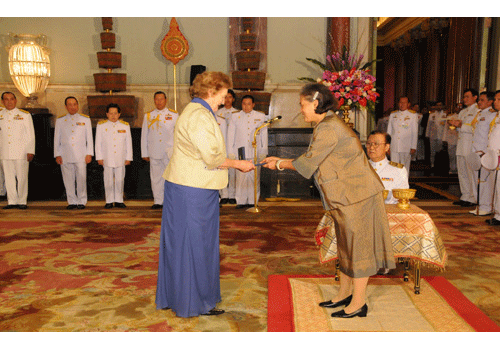 Dr. Ruth F. Bishop receive the Prince Mahidol Award 2011
In the field of Public Health:
Dr. Ruth F. Bishop (Australia) Professorial Fellow, Department of Pediatrics, University of Melbourne, and Senior Principal Research Fellow, Murdoch Childrens Research Institute, is the first person who discovered that diarrhea in children, which occurs in those younger than 6 years old around the world, is caused by Rotavirus. The virus claims about half a million children's lives every year, especially in low and lower middle income countries in Africa and Asia. In 1973, Dr. Bishop and her team at Royal Children's Hospital examined cells from the intestines of children with gastroenteritis under the electron microscope and found that the virus has a round and wheel-like shape, so they named it as "Rotavirus".
Furthermore, she also discovered the demonstration of protective immunity against severe disease by natural neonatal rotavirus infection. This laid groundwork for vaccine development against Rotavirus. Since 2007, it was mandated that every Australian child must receive the vaccine against Rotavirus diarrhea. At present, the vaccine has been widely accepted and used in more than 60 countries including Thailand, saving lives and providing health care to millions of children worldwide.
In the past 19 years, 59 individuals, groups of individuals, and institutions have received the Prince Mahidol Award. Among them, 2 received the Nobel Prizes, namely Dr. Barry Marshall, from Australia and Professor Harald zur Hausen from Germany. Professor Marshall, the 2001 Prince Mahidol Laureate in the Public Health, received the Nobel Prize in Medicine or Physiology in 2005 for his discovery of a new type of bacteria called "Helicobacter pylori". His findings transformed therapy of peptic ulcers from consumption of antacid H1 receptor or radical gastric surgery, to a short highly effective course of antibiotics. Professor Dr. Harald zur Hausen, the 2005 Prince Mahidol Laureate in Public Health, was recently awarded the 2008 Nobel Prize in Physiology or Medicine for his discovery of human papilloma viruses causing cervical cancer.
The year 2012 marks the 120th Birthday Anniversary of His Royal Highness Prince Mahidol of Songkla. In this regard, to celebrate this auspicious occasion, government and private sector are arranging many activities. Thailand Post Co., Ltd has launched the commemorative stamp since 1 January 2012.