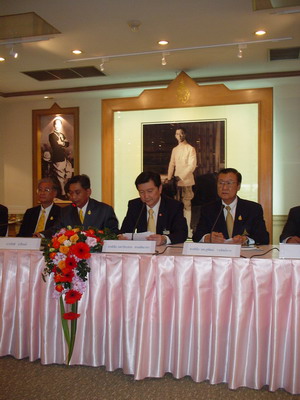 On 9 November 2006, Mr. Kitti Wasinondh, Director-General of the Department of Information, Ministry of Foreign Affairs, in the capacity of the Chairman of the Sub-Committee on Public Relations of Prince Mahidol Award Foundation together with Clinical Professor Piyasakol Sakolsatayadorn, Dean of Faculty of Medicine Siriraj Hospital, Mahidol University in the capacity of the Deputy Chairman of the Board of Trustees of the Prince mahidol Award, Clinical Professor Vicharn Panich, in the capacity of Chairman of the International Award Committee, and Dr. Supat Vanichakarn, Secretary-General of the Prince Mahidol Award Foundationม, with Mr. Kenneth L. Foster, Representative from the Embassy of the United States of America and Mr. T. P. Seetharam, Representative from the Embassy of India, held a press conference at Prince Mahidol Exhibition Hall, Sayammin Building, Faculty of Medicine, Siriraj Hospital to announce the Prince Mahidol Award laureates for the year 2006.
The Prince Award laureates for 2006 are
In the field of medicine:   Professor Stanley G. Schultz, MD, USA
In the field of public health: Dr. David R. Nalin, MD, USA; Dr. Richard A. Cash, MD, MPH, USA; and Dr. Dilip Mahalanabis, MD, India.