Today (6th November 2014) at 15.00 hrs., Clinical Professor Udom Kachintorn, Dean of the Faculty of Medicine Siriraj Hospital, Mahidol University, in the capacity of Vice President of the Prince Mahidol Award Foundation, Mr.Sek Wannamethee, Director-General of the Department of Information, in the capacity of the Chairman of the Sub-Committee on Public Relations of the Prince Mahidol Award Foundation, and Professor Vicharn Panich, Chairman of the International Award Committee of the Prince Mahidol Award Foundation, held a press conference to announce the 23rd Prince Mahidol Award for the year 2014 at the Prince Mahidol Museum, 2nd Floor, Syamindra Building, Siriraj Hospital.
The Prince Mahidol Award Foundation of which H.R.H. Princess Maha Chakri Sirindhorn is the President, has decided to confer this year's Prince Mahidol Award in the field of medicine to Professor Akira Endo In the field of public health, the Prince Mahidol Award is conferred to Professor Donald A. Henderson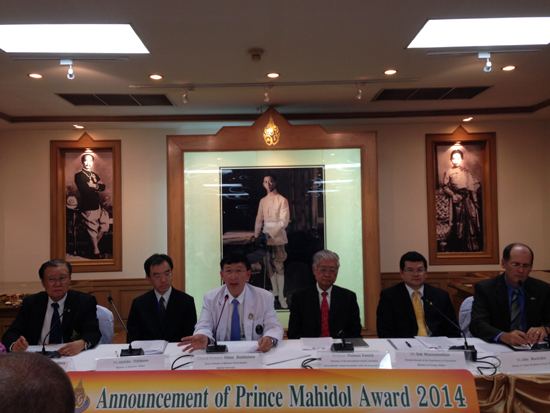 There are a total of 59 nominations from 25 countries. The Scientific Advisory Committee carefully screened all candidates from the year 2014, 2013, and 2012 and then submitted a short list of the candidates to the International Award Committee who scrutinized and made a recommendation to the Board of Trustees. H.R.H. Princess Maha Chakri Sirindhorn presided over the meeting of the Board of Trustees on 17th October 2014 in which the final decision on the Prince Mahidol Award 2014 was made.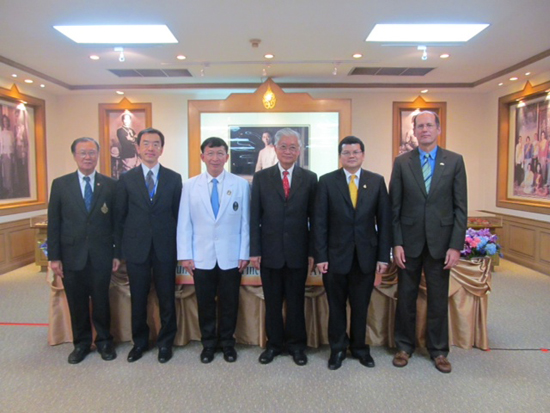 In the past 23 years, 68 individuals, groups of individuals, and institutions had received the Prince Mahidol Award. Among them, two subsequently received the Nobel Prize in Physiology or Medicine, namely Professor Dr. Barry James Marshall and Professor Dr. Harald zur Hausen. Two Thai had received the Prince Mahidol Award in 1996, they were Professor Prasong Tuchinda and Professor Suchitra Nimmannitya and two more in 2009: Dr.Wiwat Rojanapithayakorn and Mr.Mechai Viravaidya.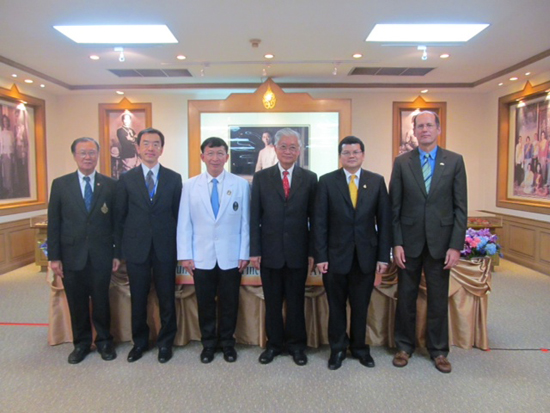 The Prince Mahidol Award Foundation under the Royal Patronage was established in commemoration of the centenary of the birth of His Royal Highness Prince Mahidol of Songkla, on January 1, 1992. The Foundation is under the Royal Patronage, with Her Royal Highness Princess Maha Chakri Sirindhorn as president. The Foundation annually confers two Prince Mahidol Awards upon individual(s) or institution(s), which have demonstrated outstanding and exemplary contributions to the advancement of the world's medical and public health services. Each Award consists of a medal, a certificate and a sum of US $100,000.
Their Majesties the King and Queen of Thailand have graciously designated Her Royal Highness Princess Maha Chakri Sirindhorn to preside over the Presentation Ceremony of the Prince Mahidol Award 2014 at the Chakri Throne hall on January 28, 2015 at 17.30 hours. Prior to the Ceremony, Siriraj Hospital, as a founder of the Prince Mahidol Award, will invite the 2014 Prince Mahidol Award Laureates to give lectures based on their achievement on January 27, 2015.
Prince Mahidol Award Laureate 2014
In the Field of Medicine

Dr. Akira Endo
President, Biopharm Research Laboratories, Inc.,
Distinguished Professor Emeritus, Tokyo University of Agriculture
and Technology, Japan

Dr. Akira Endo discovered the first anticholesterol statin called compactin (previously known as ML-236B), which he isolated from the fungus Penicillium citrinum in 1976.
Dr. Endo studied over 6,000 types of fungi before he found one that reduced the amount of cholesterol in the blood, which he named ML-236B. It was able to block the enzyme HMG-CoA reductase, the critical rate-limiting step in the cholesterol synthesis pathway.
Cardiovascular diseases have been a major health burden in most nations around the world for many decades. Moreover, coronary heart disease (CHD) is also known to be responsible for a number of fatalities globally. These CHD fatalities are shown to be closely associated with hypercholesterolemia. Although cholesterol is important to the functioning human cells, its excessive level can lead to a formation of cholesterol plaque inside of arterial walls. The rupture of this plaque can result in the formation of blood clot inside arteries, thus reducing or blocking the blood flow, leading to a condition known as heart attack.
Dr. Endo's pioneering work in discovery of Statin has been recognized as a major milestone to the prevention and treatment of coronary heart disease as well as other major vascular diseases. The discovery of Statin by Dr. Endo has shifted the paradigm in coronary heart disease from an unpreventable to a preventable one. His discovery also led to an effective treatment of hypercholesterolemia and a significant reduction of coronary heart disease and stroke, thus saving millions of lives worldwide.
Dr. Akira Endo obtained a PhD in biochemistry at Tohoku University in 1966. During 1957-1978, he worked as a biochemist at Sankyo Co. He had been appointed as a full Professor at the Tokyo University of Agriculture and Technology from 1986 to 1997. After retirement, he obtained the post of Directorship of Biopharm Research Laboratories Inc. He also serves as a Professor on Special Mission at Tohoku University and Waseda University, and a Visiting Professor at Kanazawa University and Hitosubashi University.
Prince Mahidol Award Laureate 2014
In the Field of Public Health


Dr. Donald A. Henderson
Distinguished Scholar, Center for Health Security,
University of Pittsburgh Medical Center
Dean Emeritus, Bloomberg School of Public Health, Johns Hopkins University, USA

Dr. Donald A. Henderson led the World Health Organization's Global Smallpox Eradication Campaign. Smallpox is considered the first and only deadly disease that has been completely eradicated from the world.
Although the prevention of smallpox by inoculation of smallpox scabs was practiced as early as 1000 BC, smallpox continued to be an important public health problem throughout the world in the 20th century especially developing countries. Although a vaccine for smallpox was discovered as early as 1796, there was still no way to prevent the spread of this disease. Smallpox caused an estimated 300–500 million deaths during the 20th century.
From 1966 to 1977, Dr. Henderson led the WHO Smallpox Eradication Unit. The unit coordinated a global effort of mass vaccination campaign and intensive case surveillance that led to eradication of smallpox. The smallpox eradication campaign came to a successful conclusion in 1977 when the last case was reported in Somalia. On 8 May 1980, the WHO declared that the global goal of smallpox eradication had been achieved. Smallpox eradication has not only saved billions of lives but also has set an example on how to tackle more effectively other health problems.
Dr. Donald A. Henderson received his A.B. in 1950 from Oberlin College and his M.D. in 1954 from the University of Rochester School of Medicine. He served both an internship (1954-1955) and a residency (1957-1959) in medicine at the Mary Imogene Bassett Hospital. Between his internship and residency he worked in the epidemiology intelligence service of the Communicable Disease Center (CDC). In 1960, Dr. Henderson received an M.P.H. from the Johns Hopkins University School of Hygiene and Public Health.